7 Things to Expect from Miley's Bangerz Tour ...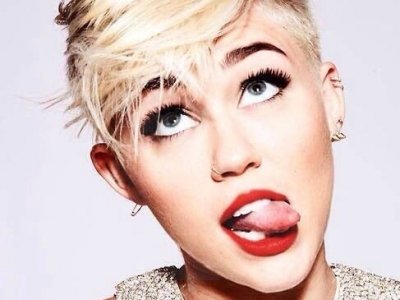 If her past performances are any indicator of what's to come, Miley's Bangerz tour is going to be crazy. I'm personally a huge fan of Miley and her music and I'm very excited to see what she comes up with for her tour. It's definitely one of the most anticipated tours of the year! When Miley talked to Billboard about what the audience could expect, I was blown away. Check out what you can expect from Miley's Bangerz tour. Make sure to get tickets while you still can!
Like many performers, Miley's set list spans 90 minutes. She made sure to preserve the acoustic section from her previous tours (yay!). For this tour, this section will include acoustic renditions of her singles as well as a bunch of covers. Miley said the show can go "as long as I want," all depending on the crowd's energy and venue. So, if you don't want Miley to leave the stage, make sure you keep screaming! This is just one of the things to expect from Miley's Bangerz tour.
Miley's tour is packed with girl power. Her opening acts include Icona Pop and Sky Ferreira. Miley said they were strategically chosen! She also prides herself in being a feminist and likes to fill her work area with as many women as possible. She's a big fan of Icona Pop and says they're a band that people should be on the lookout to rise even more!
What's a tour without special guests? Taylor Swift had a special guest in pretty much every show! But anyways, back to Miley. "I have friends that worked on my album in all of these cities, so anytime I'm in the same city, I'm definitely gonna drag everybody out," she said of all her Bangerz collaborators. I'm excited to see what special guest she drags out in the NY/NJ area!
4.

'less is More' Tour Costumes
I can't even imagine what her touring costumes are going to consist of. Miley is fearless when it comes to taking fashion risks. I'm sure she's going to look amazing! Her costumes are designed by Marc Jacobs, The Blonds, and Jeremy Scott. I mean, there's no way she won't look fabulous with those designers. "Clothes for me, or lack thereof, say a lot," said Miley!
We all know Miley has zero cares about what other people think of her! "I don't have a hard time making fun of myself, so the whole thing is making the way people perceive me and doing that even more, be the character myself," she said. "That's what I think I've been representing, more than anything, in the past year. Being fun and carefree, and that's really what the show represents." I love when someone can just make fun of themselves and not stress about what society thinks. Miley is her own person!
6.

Expect More than Confetti
You know how at the end of the concert, confetti falls from the ceilings? Yeah, well expect more than confetti for this tour! Miley's going to be giving away a lot more at her shows. "All the kids always want to keep the confetti, but I want to give them real things to collect." I'm really curious to see what it'll be!
Miley has revealed that we can expect more of her four-legged friends on tour. "Our whole tour is literally based on animals!" she said. Much of the content was sketched by Ren & Stimpy creator John Kricfalusi, which include "imaginative animals he's made on his own."
So, there you have it! Miley's Bangerz tour is definitely one you won't want to miss. What are you most excited about?
{{#comments_count}} Show Commnents ({{comments_count}}) {{/comments_count}}