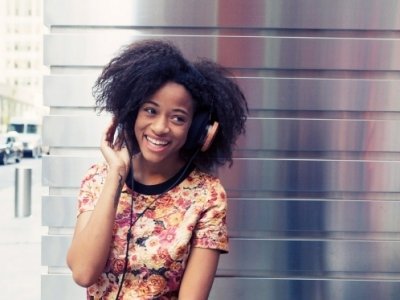 There are SO many Pentatonix covers that I could just have on repeat all day long. It's not even fair how talented they all are! The group is currently in the middle of their North American tour which is sold out by the way! I have my fingers crossed that I might be able to snag some tickets whenever they come to my area. Check out some of my favorite Pentatonix covers!
1.

Happy - Pharrell

I'd like to start off by pointing out that the group posted this cover just a few weeks ago and they've racked up nearly four million views on it! That's incredible! Watching this video makes me, well, happy. I'm always so impressed by their a capella skills - it's mind-blowing! This is just one of the many Pentatonix covers that I could listen to all day.
2.

Say Something - a Great Big World

When this song came out, everyone on YouTube tried to cover it. I think very few succeeded. There's just this raw vulnerability you need to have in your voice to pull this song off and Pentatonix definitely does it justice. Kirstie Maldonado takes the lead in this cover and I think her voice is SO beautiful. I could keep this cover on repeat all day long. P.S the video has nearly twelve million views!
3.

I Need Your Love - Calvin Harris Ft. Ellie Goulding

This cover is definitely one of my absolute favorites! I can't even fathom how talented they are. The group also sang this song live for NBC's The Sing-Off's finale. I love that their videos showcase their talent but also show off their fun loving personalities. This video has over ten million views!
4.

Evolution of Beyonce

There's no way this video wouldn't make the list. I mean, it's FLAWLESS. It's six minutes of pure awesomeness and the video has racked up over thirteen million views. The group sings an epic mash-up of some of Beyonce's biggest hits. Watching the video, their talent looks so effortless. It's not even fair how amazing they all are!
5.

Royals - Lorde

This cover is nothing short of amazing. The group covered Lorde's mega-hit, "Royals" and racked up 32 million views. I mean, WOW, right?! Their voices sound fantastic in this cover - I never get tired of listening to it. It's safe to say I even prefer this version to the original (oops). What do you think about it?
6.

Daft Punk

I don't even have words for this video - it's awesome! It's one of their most popular videos, bringing in over 59 million views. They definitely show off how incredibly creative and clever they are with their mash-up!
7.

Frozen Medley

This video is actually a "Superfruit" video (Scott Hoying and Mitch Grassi) but it's so amazing that I had to add it on the list. PTX member, Kirstie Maldonado, is featured in the video and is incredible as always. I've lost count of how many times I've watched this video!

Well, there you have it! These are just seven out of many incredible Pentatonix covers! It was definitely hard to narrow down the list because everything they do is amazing! What video of theirs do you always have on repeat? Of the list, which cover is your new favorite?