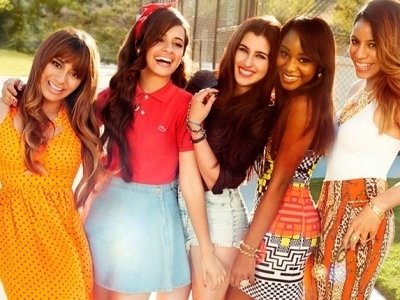 There are so many reasons why you should love Fifth Harmony. These five girls are going to be taking over the music industry really soon, mark my words. They've had crazy success since their start on the X Factor and it truly is remarkable how far they've come. Check out some reasons why you should be a Fifth Harmony fan!
1.

Their Vocals

Individually, each member of the band is a powerhouse vocalist. Together, they're able to harmonize so beautifully that it actually blows my mind at times. I can watch their acoustic videos all day long and be impressed each time I watch it. You can check out their YouTube channel to see all their latest videos. Their vocals are just one of many reasons to love Fifth Harmony.
2.

They're Genuine

I honestly don't think I've met a group of girls as genuine as the girls of Fifth Harmony. They're just the sweetest girls who care about actually taking the time to talk to their fans whenever they meet them. The girls are always cracking jokes and having a good time and they're not afraid to show it to the world. They're definitely the type of people where what you see is what you get. They hide nothing and I love that about them.
3.

They're Hard Workers

It's been non-stop work for these girls ever since the X Factor! Currently, they're touring with Demi Lovato as one of her opening acts on the "Neon Lights" tour. While rehearsing for the tour, the girls spent 8 hours a day in a dance studio making sure their moves were perfect. They're currently working on their full-length album which will hopefully be out later this year. They've already released four EPs - these girls are always working! Along with recording sessions, the girls are always performing, having meet and greets, doing interviews for the press, etc.
4.

Their Fashion Sense

When the girls get glammed up for a red carpet event, it's not even fair how pretty they look. Whoever styles these girls is a genius because they always look flawless! Their tour outfits for the Neon Lights tour are perfect. I love how each one's outfits is a great representation of their personality. When the girls aren't on red carpets or on stage, their casual attire is also great!
5.

Their Success

It hasn't been that long since Fifth Harmony stood on the X Factor stage. Since then, they've accomplished SO much. Their debut EP, 'Better Together', debuted #2 on Billboard's charts. How impressive is that? They recently performed at MTV's 'Artist to Watch' showcase in L.A. Now, their fandom is growing even bigger each night while they perform to sold-out stadium audiences. If you aren't a fan by now, it's about time you become one! These girls are going to take the music industry by storm, be ready.
6.

They Love Their Fans

The Fifth Harmony girls LOVE their fans and they always make sure that the fans know this. The girls are constantly interacting with fans on Twitter - replying, messaging, and even following fans. I've been to a couple of their meet & greets and although they can only spend about 5 seconds with each person, they make sure to say hi to you individually and even give you a hug. I just think it's so sweet that they put in so much effort to let their fans know they're loved.
7.

They're Gorgeous

These girls are gorgeous, inside and out. I love that their inner beauty really shines right through. They're genuine, sweet, and talented and it shows.

Well, there you have it! These are just seven out of many reasons why you should be a Fifth Harmony fan. If you already are, what's your favorite thing about them?