7 Fantastic Reasons to Listen to Us the Duo ...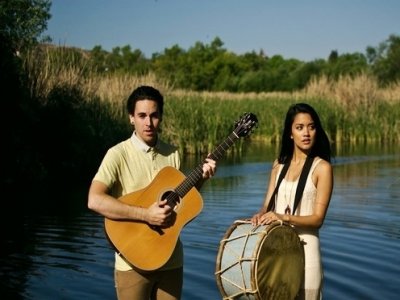 There are so many fantastic reasons why you should listen to Us The Duo! They've been in the music scene for quite a while but are just starting to get some major buzz. I'm really excited to see where their music will take them - I think they have the potential to go really far! They're definitely the type of band that makes it easy for you to fall in love with their sound. Listen for yourself and check out some reasons to listen to Us The Duo!
If you didn't already know, Us is a husband and wife duo. I know, how cute is that?! Michael and Carissa have a huge passion for music and they get to share this awesome musical journey with each other. The two also tell the story of how they met, fell in love, etc., through their lyrics. It really makes you feel like you experienced it all with them. Their story is just one of the reasons to listen to Us The Duo!
Us is a folk-pop duo. Their mellow songs are the ones you want to listen to at night while you unwind from a long day. Of course, they also have tunes that make you want to dance and sing along! Their song 'No Matter Where You Are' is one that you can't help but have a dance party to. It's one of my favorites!
I've only met Michael and Carissa once but from what I've seen, those two are the sweetest people in the music business. They have a genuine love for all their fans and supporters and try their very best to show all the love back to them. During the few minutes that I got to spend with them, I felt like one of their close friends. That's how they treat everyone - as if they're already best friends. It's awesome.
Us is always posting covers, whether it be on their YouTube channel or a 6 second cover on Vine! Through that, the duo managed to gain a huge following. I mean, it's no surprise that so many people are obsessing over their swoon-worthy vocals. It's fascinating how they manage to take a major song and totally reinvent it, making it sound like one of their own.
Us is heading out on tour THIS summer, and I'm so excited to see them perform again! They recently performed in New York City to a sold-out crowd. It was so amazing to see how many people came out to see them and it was really sweet to see just how moved Michael and Carissa were by it. Also, the two were recently signed to Republic Records, so expect big things from them in the near future!
The two are constantly posting the most adorable pictures together. They're in such a good place in their relationship - the way they talk about each other is so heartwarming! I don't know about you, but I think Michael and Carissa are an inspiration to us all. Don't settle for anyone who isn't your soul mate!
Fans are constantly telling the duo that their lyrics helped them deal with long-distance relationships, etc. I love that their words are so powerful and touch so many people! At their NYC show, they each performed a song they wrote after meeting one another for the first time. Michael's song, 'Girl in LA,' is so beautiful!
Well, there you have it. These are just seven out of many reasons why you should be listening to Us The Duo. What's your favorite thing about them?
{{#comments_count}} Show Commnents ({{comments_count}}) {{/comments_count}}