7 Awesome Reasons to Love Neon Hitch ...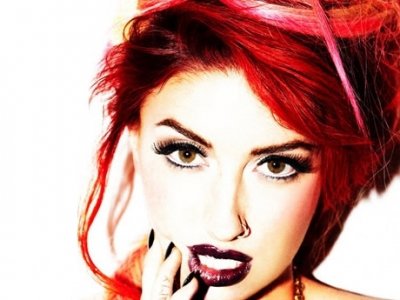 There are so many reasons to love Neon Hitch! The British singer/songwriter has had quite the success story. She's been featured on a song with Gym Class Heroes and has co-written songs with Sia and Bruno Mars. Recently, she put out a mixtape titled "301 To Paradise" which showcases her funky, gypsy vibe. The mixtape was produced and co-written by NYC-based hip hop group Kinetics & One Love. If you hadn't heard of her yet, check out these reasons to love Neon Hitch.
It sounds like a stage name, but it's not! Her birth name is Neon, and I don't know about you, but I think that's awesome! Rumor has it that when she younger she actually wanted to change her name to something more conventional. Good thing she didn't! What's conventional about musicians? This is just one of the awesome reasons to love Neon Hitch.
I assure you, Neon's life has been nothing like yours. "The day I was born, my house burnt down; the day I left home, the Twin Towers burnt down; and I lived in a jungle in India at 15," she says. Wow. Neon lived her younger years as a gypsy, just circling the globe (and living in a bus). Neon, her mom, and her sister were all street performers while her lighting-artist dad toured with the likes of David Bowie, Duran Duran, and more. "I was always a bit of a showgirl; it was in my blood (and my name)," she says. "I never thought I would have a career as a singer, though." Wow. Much respect to her for coming as far as she has!
I love everything that Neon wears! She's definitely fashion forward and is not afraid of taking ANY fashion risks. Some of her favorite must-haves include her signature headdress, her long nails, and some massive heels. She describes her fashion sense to be very similar to her mom's; just wild and fun. Oh, and of course we can't forget her signature neon red hair! Although she looks fab as a brunette, too!
This girl has some serious pipes on her. I finally got to see her perform live last year at NYC's CMJ Music Marathon! She premiered some new music from her now released mixtape and sounded flawless. She's got raw, genuine talent that more people should take notice of. I love the fact that she manages to sound just like (or better than) the studio versions of her song. P.S I met her after the show and she was the sweetest thing!
Neon was signed to The Beats Recordings but when it shut down in 2007, things started to go downhill for her. She found herself homeless, until her "long-lost sister" Amy Winehouse took her in. I mean... how incredible is that? Benny Blanco's manager James Johnson then messaged Neon on Myspace when he liked what he heard. Today, she's signed to another label and working on new music. Fun fact- she co-wrote Ke$ha's "Blah Blah Blah" song! Neon has an "Amy" tattoo as a tribute to the woman who took her in.
Neon's music is amazing. There's no sappy love songs, just real life thoughts. Her songs "Love U Betta", "Gold" and "Poisoned With Love" are some of my favorites. If you haven't heard these songs, I suggest you check it out! Honestly, just check out all of her songs.
Let's face it, Neon is a person of unconventional and slightly strange views. But, that's the beauty of her. She's not afraid to do/think whatever she wants. She's somebody who really understands that meaning of life is just to be alive.
There you have it! These are just seven out of many reasons to love Neon Hitch! If you're already a fan, what's your favorite thing about her?
{{#comments_count}} Show Commnents ({{comments_count}}) {{/comments_count}}