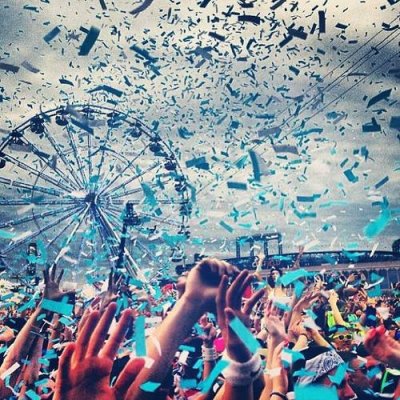 I have a confession to make. I'm sort of addicted to concerts. Maybe I should explain a little bit more. On a good year, I'll go to anywhere from three to five concerts during the summer. However, usually it's a bad year, and I'll go to one concert if I'm lucky. Because of that, I've seen a lot of different people because three to five concerts means a lot of opening acts, which brings the number up very quickly. I guess what I'm trying to say is that I feel comfortable enough to give recommendations on the concerts worth seeing this summer when they come to your hometown!
1.

Taylor Swift

This summer will mark my fifth time seeing Taylor Swift in concert (yes, fifth) and despite the fact that I've seen her so many times, I'm still counting down the days until the day she comes to my town. Her concerts are always incomparable to any other concert I've seen, and because 1989 is her biggest album, I'm sure this tour will be too.
2.

Ed Sheeran

I had wanted to see Ed Sheeran in concert for years before I got to from the front row of Taylor Swift's Red Tour. It was, to this day, one of the most intimate concerts I've ever experienced, despite the fact that it was for a crowd of 50,000 people. He puts on one of the best shows I've ever seen. I've seen him a few more times since and they are always mind-blowing.
3.

One Direction

I saw One Direction in person when they were a five-some, and although a lot (I think that's an understatement) of people are upset that Zayn has left the band, I think that seeing them as a foursome would be just as, if not more so, interesting. You never know what's going to happen when those boys are on stage!
4.

Drake

Drake's been on my list of concerts I want to see for years now, but unfortunately it's never worked out that I've been able to see him. Thankfully, my luck may have turned around this year because he's on tour again! Check him out while you can!
5.

Lana Del REY

Having seen Lana Del Rey in concert, I can confirm that she was phenomenal live. It sounds like you're listening to the album when she performs, and the energy in the room is electric. If you're looking for a fun concert for a night out this summer, Lana Del Rey is definitely the act to check out!
6.

Nick Jonas

I have also seen Nick Jonas in concert twice, except both times I saw him with the Jonas Brothers. Like Drake, Nick Jonas's solo tours and I have never worked out. That being said, Nick has been touring since he was a kid, and it shows when you see him perform. He's about as professional as it gets. You'll leave astounded. However, beware. He was set to go on tour with Iggy Azalea this summer, however, after she had to postpone her tour, he left it, meaning that his tour dates are few and far between this summer. Don't worry, though, he promises new dates are imminent!
7.

Britney Spears

Are you going to Vegas this summer? Well plan accordingly, because Britney Spears is performing there for the months of May and August! I don't know about you, but I'd love to see a living legend if I were going to be in Las Vegas this summer!

Who are you looking forward to seeing in concert this summer? Let me know in the comments!